Excellent disco couldn't have wished better music5
Clive and his partner were exceptional hosting my 60th birthday party disco. All the music played took me back to my mis-spent youth in the disco era of the late 80's and early 90's Soul and Motown dance tunes. I would highly recommend their services. 10 out of 10, They travelled all the way up north to Darlington from Bradford - such dedication. REVIEWED BY - JEAN P
100% would recommend!5
Can't recommend enough, showed up and started earlier than booked for a surprise 30th played all the music requested, great quality system, set and lights and great price! REVIEWED BY - AMBER S
I can't rate highly enough! A true professional
SK Disco was completely as advertised, full light show, bubble machine and glow sticks for the children. I can honestly say I was not disappointed. REVIEWED BY - ADAM D
Fantastic DJ
Catered for all ages at the party! Music was excellent! Definitely would recommend! Very friendly and great service! REVIEWED BY - HOLLY R
Great DJ lovely guy5
Had a girls Xmas football party and they all said it was the best party ever - Clive did games handed out sweets from Trolley that he supplies and played great music. Karaoke wAs fab! Would definitely use again. REVIEWED BY - DEBBIE P
Just did what people asked, stayed beyond his timeslot, was there early, could not fault.
Reviewed by: Sean B
Did exactly what I expected, great job
Great range of music from all the decades and current. Would recommend and use again.
Reviewed by: Rebecca C
Amazing DJ who played all the 80s hits for our 80s party with brilliant lights and sound , highly recomended and amazing value for money , will use again thankyou .
Reviewed by: Stuart U
Fantastic service, it was such a fun night. Thank you so much
Reviewed by: Suzanne P
Clive was the most wonderful DJ! He made out christening/1st birthday party for our little boy perfect! Everyone enjoyed the party and LOVED the karaoke! He couldn't do more for us and we are so so so thankful! We will DEFINITELY be using him again and will be giving his contact details out! If you are after a DJ who is reliable, helpful and wants to make your parties perfect definitely get in contact with him!! Thank you so so so much! Hope to see you soon!!
Reviewed by: Heidi K
Good range of music and has all the lighting etc.
Good professional outfit and good value for money
Reviewed by: Neal S
Great service, great with kids, great music, thankyou
Reviewed by: Emily S
Good communication before the event, Turned up on time and pitched the evening's entertainment just right for the party. Would use again and highly recommend.
Reviewed by: Annette C
Clive was amazing, highly recommend! Many Thanks x
Clive did exactly as discussed, was organised, prepared, professional, patient, kind and friendly. All the attributes needed and came prepared with an invoice too. Very good value for money. Will definitely be in touch for any future parties!! Kindest regsrds, Lisa
Reviewed by: Lisa S
Clive was brilliant, played all the best music and took request as well, we had a brilliant day we should of booked him earlier for a longer period of time. Would highly recommend Clive, we would us him again in the future!
Reviewed by: Kelly N
Thank you so much Clive for giving our party a bit of pizzazz! We had the best night and your music choice and karaoke was just fantastic.
Reviewed by: Katy L
Clive and his partner were fabulous. It was an great night and the music was fab. We had lots of comments saying how good it was Would definitely use again
Reviewed by: Becky P
Clive's set up was fantastic. My guests ranged from 3 years old to 89 and everyone enjoyed the music. My 3 year old nephew loved dancing around and chasing he lights! There was a great range of karaoke songs as well. Communicating with Clive was easy through email and he responded very quickly. I would definitely recommend him.
Reviewed by: Suzanne M
Amazing! Had everyone up on there feet just brilliant!
Reviewed by: Laura D
Fantastic! Will definitely be booking again!
I am so happy I came across SK Disco! Clive and Elaine are lovely people and were absolutely brilliant, making the evening even better. Great selection and range of music and take even the strangest requests!
SK Disco were a topic of conversation the next day and we already can't wait to book them again!
Thank you again!
Reviewed by: Becky S
Great Dj, great value for money. Will definitely be using again!
Reviewed by: Angela C
Absolutely brilliant !!!!!
Lovely couple, excellent choice of music for everyone, will be recommending them to others thank you
Reviewed by: Ian B
Clive was a fantastic addition to our prom. The price was excellent and for all that he provided was exceptional value. Will definitely be using this company again.
Reviewed by: Sarah M
great service went that extra mile for us cant praise high enough ,thank you
Reviewed by: Adrian G
Clive was excellent in every aspect of service.
Reviewed by: Lynne T
Played all of our play list and even did games with the kids
Reviewed by: Donna M
Great service answered all my questions quickly turned up on time and played great music
Reviewed by: Christine T
Played a great variety of songs, easy to talk to!
Reviewed by: Samantha W
The best Dj we have ever used, absolutely brilliant with our residents with Learning disabilities, amazing value for money, we will definitely be using again, so so pleased with this DJ.
Reviewed by: Chantelle Y
Really good experience from start to end
Nothing but praise as SK were really easy to deal with and superb value for money. Clive was really easy to get along with and work with and very accommodating with the playlist requests prior to the event. He was very timely and efficient when setting up and the evening was excellent. All the guests loved it and had a great time. Would certainly recommend him to anyone else.
Reviewed by: Martin S
Clive was brilliant at my husbands 30th birthday party. He kept the music going and played everything we asked for and more. Really happy with his service and will definitely use him again. I would highly recommend him to anyone needing a fab DJ. Thank you!
Reviewed by: Caroline L
We had Clive he was fabulous, great price would definitely use him again. Played all the request asked for.
Reviewed by: Carla V
Absolutely fantastic made my party so enjoyable and fun! Everyone loved it and the kareoke was smashing. Would definitely hire again! Wish it went on for longer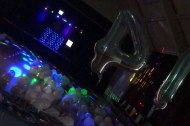 Reviewed by: Larissa W
Really professional, good value for money, nothing was ever a problem.
Reviewed by: Kate P